Mohammad Eid starting his Master Thesis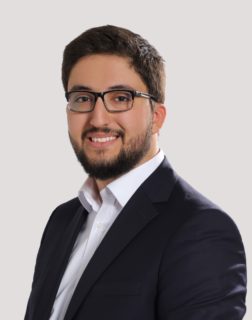 Mohammad Eid is starting to work on his Master's thesis on Functional Electrical Stimulation of the hand at the AIROB lab.
Mohammad Eid received the B.Sc. in Biomedical Engineering (5-Year engineering program) in 2019 from German Jordanian University (GJU), Amman, Jordan. As a part of his bachelor's program, he spent a year at Mannheim University of Applied Sciences, Mannheim, Germany. He did his bachelor's thesis in deep learning at Siemens Healthineers' MR department, Erlangen, Germany. After his B.Sc., he worked as a Research Assistant at GJU, his work involved a number of projects in the fields of biomedical signal processing and deep learning. He is currently pursuing his master's degree in medical engineering with focus on neuromuscular interfacing, prosthetics, and rehabilitation at Friedrich-Alexander-Universität.